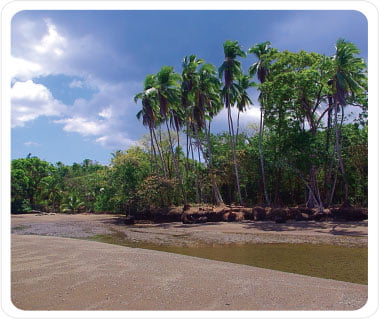 LA PALMA
Located near the shores of the Gulf of Dulce, the quiet town of La Palma is just minutes away from some of Costa Rica's best wonders. The area has a laid-back atmosphere with a small friendly population providing an abundance of amenities here including restaurants and multiple small shops to pick up necessary items. It is a short 20-minute drive to downtown Puerto Jimenez by car on a good asphalt road and a 5-minute drive to the pristine beach at Playa Blanca on the Golfo Dulce. The La Palma region offers a wealth of untapped business potential with many fine development opportunities and properties of all types, many in close proximity to the beautiful Golfo Dulce.
---
Hacienda Quinta Cerritos
Unique Private Estate Property for sale in La Palma
US$799,000
Hacienda Cerritos is extremely lush and private and comprised of approximately 4.45 ha (10 Acres) of rolling hills overlooking spectacular views of the rural Osa Peninsula panoramas. This property offers the option of a wonderful private residence or the creation of a small, luxury development. The entire interior road structure has been cut in and graded with truckloads of gravel hauled in to form a solid base for easy maintenance. Over half of the property is planted in grass and thousands of hours of care and devotion have been invested into creating this unique paradise. Among the diverse characteristics of the property are a small man-made pond that attracts an endless variety of wildlife to the property, and the massive native trees throughout providing the perfect backdrop for bird watching. The gardens are planted with banana, plantains, corn, yucca, oranges, and lemons. The parcel is fully titled and Water, electricity, telephone, 3G phone and internet service are all available at the site.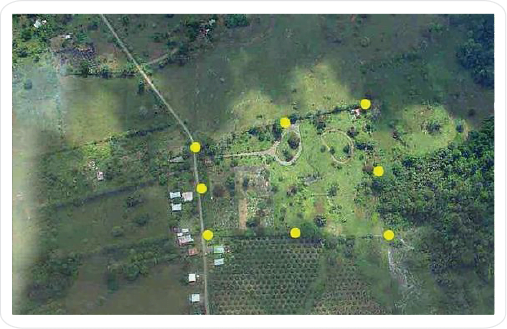 Property: ID # 19382
Property Area: 4.45 hectares
(10.2 acres)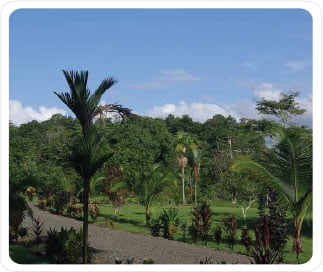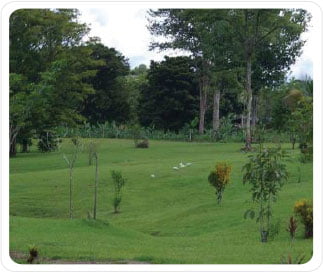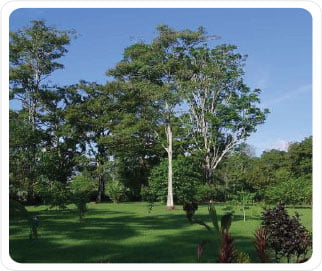 ---
Tucan Hill Estates
6 Parcels for sale in La Palma
US$399,000
TOUCAN HILL ESTATES measures approximately 75,000 m² (18 acres), and is situated on the outskirts of La Palma, near the northern entrance to Corcovado National Park. This property offers endless potential either as a large individual estate, or a small residential development with existing designations for a variety of large "country" lots ranging in size from 3500 m² to 11000 m². It is a 20-minute ride to Puerto Jimenez on a new road and 5 minutes to pristine Playa Blanca, the only "Blue Flag" beach located on the Osa Peninsula. Cashews, cacao, water apple, papaya, bananas, lemons, and oranges all hang ripe for the picking. There is also a beautiful small creek that borders the property.
PARCELS # 1 and # 2 offer a beautiful view to the Golfo Dulce. It is the last property on the entrance road offering privacy, and enough space to create the getaway you are looking for.
PARCELS #9, 11, 12 & 13 are well suited for a private country home as each quinta is large, well developed, segregated and ready for construction.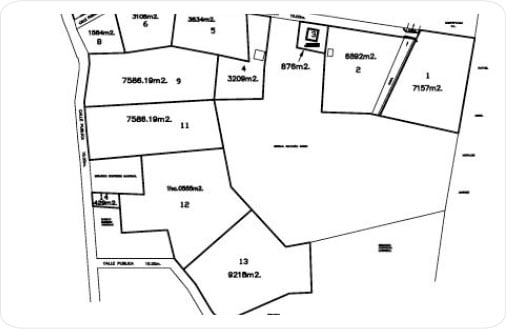 Property: ID # 19380
Land Size: 7.5 hectares (18 acres)
Entire Property: $399.000.00
PARCEL #1 (7,157 m²) $89,000.00
PARCEL #2 (6,892 m²) $69,000.00
PARCEL #9 (7,586 m²) $59,000.00
PARCEL #11 (7,586 m²) $59,000.00
PARCEL #12 (10,555 m²) $79,000.00
PARCEL #13 (9,218 m²) $69,000.00
Individually: $424,000.00